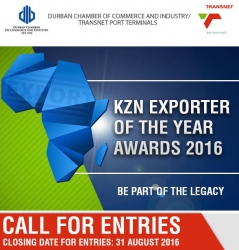 Durban Chamber - Call for Entries: KZN Exporter of the year 2016
Durban Chamber - Call for Entries: KZN Exporter of the year 2016
2016-06-13
CALL FOR ENTRIES

Durban Chamber of Commerce and Industry/Transnet Port Terminals KZN Exporter of the year awards

For over a decade, the Durban Chamber of Commerce has collaborated with Transnet Port Terminals (TPT) together with other strategic partners such as the Department of Economic Development, Tourism and Economic Affairs (edtea), Trade & Investment KwaZulu Natal (TIKZN), Ethekwini Maritime Cluster (EMC), Small Enterprise Development Agency (SEDA) and the Export Credit Insurance Corporation (ECIC) to highlight successful exporters in Kwa-Zulu Natal.

The awards are an ideal showcase for emerging and established exporters of a wide range of goods. The ocean economy plays a crucial role in the development of Durban with an annual GDP of 20 Billion. Kwa-Zulu Natal is the second largest economic contributor to the South African economy. A large part of the KZN economy is as a result of being host to the Durban Container Terminal, the largest in Southern Africa, and Richards Bay Terminal. These two facilities are among 16 terminals run by TPT.

Entries are open to all exporters within KwaZulu-Natal and not only restricted to Durban Chamber members. We encourage the all companies within the export sector to apply. The awards consists of six categories that entrants are adjudicated and awarded for. The categories are: Small, Medium, Large, New Exporter, Africa and Service Provider. Entries close on Wednesday 31 August 2016.

Winners will be announced at the Awards Gala Banquet on 20 October 2016 at the Inkosi Albert International Convention Centre.
DOWNLOAD ENTRY FORM
---