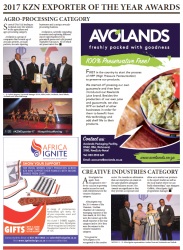 2017 KZN Exporter Of The Year Awards:Creative Category - Africa!Ignite
2017 KZN Exporter Of The Year Awards:Creative Category - Africa!Ignite
2017-12-07
CREATIVE INDUSTRIES CATEGORY
Africa!Ignite has again been recognised in 2017 for its success in growing market access for rural craft entrepreneurs in the Creative Industries category.
Africa!Ignite was the 2011 winner of the Transnet / Durban Chamber of Commerce Emerging Exporter of the Year award, in 2012 they were the runner-up in the Small Exporter of the Year category and in 2016 they were the winner in the Creative Industries category.
"It is great for Africa!Ignite to be recognised in the creative sector. The Awards are affirmation that our enterprise can stand on the same platform alongside formal industry sectors. The Awards are significant in that they provide us exposure and allow us to market our products to the export market as well as the local market where we can build relationships," says Margaret Gribble, Africa!Ignite Craft programmes manager.
MIDDLE L - R: Africa!Ignite representatives Andrea Dove and Antoinette van Nieker
---