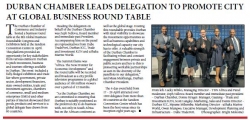 Durban Chamber Leads Delegation To Promote City At Global Business Round Table
Durban Chamber Leads Delegation To Promote City At Global Business Round Table
2018-04-26
The Durban Chamber of Commerce and Industry hosted a business round table at the 8th Global Business Roundtable Congress and Exhibition held at the Sandton Convention Centre in April.

This platform provided an opportunity for key stakeholders from various entities in Durban to pitch investment, business and tourism offerings available in Durban. The event included a fully-fledged exhibition and trade fair where government, private sector, development financiers, state-owned entities, trade and investment agencies, chambers of commerce, small and medium enterprises (SMEs) and other parties of interest showcased their goods, products and services to a global delegate base drawn from 80 countries.

Heading the delegation on behalf of the Durban Chamber was Zeph Ndlovu, Board member and immediate past President. Accompanying him on the panel are representatives from Dube TradePort, Durban ICC, Trade and Investment KZN and uShaka Marine World.

The Summit theme was "Africa: The New Frontier for Economic Development" and the round table will be recorded and broadcast as a city profile television programme to a global audience of 100 million viewers over a period of 12 months.

"As the Durban Chamber, we are committed to ensuring that Durban is suitably positioned as the preferred city to do business with, not only in South Africa but on the African continent as well as the global stage. Hosting this roundtable provides Durban with ideal visibility to showcase the investment opportunities as well as business capabilities and technological capacity our city has to offer. A valuable strength of the Durban Chamber is facilitating robust and constant engagement between private and public sectors and key to this is pioneering workable partnerships as seen in the diversity of the panellists in our delegation," said Musa Makhunga, Durban Chamber President.

The 4-day event held from 17 â€" 20 April attracted over 1000 delegates from more than 80 countries at the Sandton Convention Centre which has been the host venue since its inception eight years ago.
---