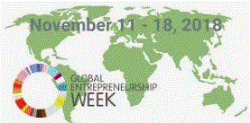 Ethekwini Municipality Elated For Hosting Fruitful Global Entrepreneurial Week Programme
Ethekwini Municipality Elated For Hosting Fruitful Global Entrepreneurial Week Programme
2018-11-21
EThekwini Municipality has successfully achieved its goal of driving economic growth and stimulating socio-economic development through empowering small and emerging local entrepreneurs through a series of workshops held during the Global Entrepreneurial Week (GEW).

Commemorated under the theme: "Recognising women, youth and inclusion in entrepreneurship as well as connecting ecosystem" from 12 to 16 November, GEW is celebrated worldwide in November with the aim of equipping aspiring and emerging entrepreneurs with the necessary skills and knowledge to be at the forefront of successful businesses.

Giving an overview of the weekly activities, the Municipality's Business Development Manager from the Business Support, Tourism, Licensing and Markets Unit Nonku Mthembu said the momentum created during the 21st edition of the Durban Business Fair held in Durban in September, was carried over to the GEW through existing empowerment programmes.

"The activities were informed by the gaps identified and the market needs. The target was 500 people that needed to be impacted through the GEW. This goal was achieved through the week's programme. There is huge potential in the GEW and we can use this platform to reach a larger audience," she said.

The City's GEW programme kicked off on the 12 November with #DBFConversations programme: What it takes to become a successful entrepreneur session where Durban Business Fair patron successful entrepreneur Rajen Reddy highlighted the importance of access to markets and the creation of business linkages.

Also part of the GEW programme and to ensure ample sectorial focus, the Municipality partnered with Sof 'n Free hair products for a hair training programme which took place at the KwaZulu-Natal Coastal College in Umbilo. This ran concurrently with the make-up training programme Beauty Academy School in the CBD. Both these initiatives focused on youth development under the City's Fashion Development Programme. The hair training programme took place from 12 to 14 November while the makeup training initiative happened from 12 to 16 November.

Furthermore, on 12 November there was an Entrepreneurship Awareness Workshop at Durban's Botanic Gardens which focused on women in leadership and women-owned businesses. This was through a Municipal partnership with Black Umbrellas and Ithala.

There was also a Contractor Development Programme which took place in Wushini area in KwaNgcolosi. This programme, which ran from 12 to 15 November, highlighted compliance in the construction sector, understanding the applicable legislation in the built environment and relevant information was disseminated to ensure capacity building and empowerment of small and emerging businesses in the construction industry.

At the Umkhubane Entrepreneurial Support Centre, the Furniture Manufacturing Training was highly attended by businesspeople in the sector. This training, which took place between 14 and 16 November, began with an intense theory session before practical lessons on upholstery and furniture making. The 49 young participants will be awarded with National Qualifications Framework level two certificates once the programme is complete.

Focusing on community economic development was the Cooperative Development Engagement Programme which aimed to explore diverse stakeholders across the private, public, non-profit and financial sectors and their roles in advancing cooperative development to create quality, sustainable and wealth-building opportunities. This initiative took place on 14 November.

A Self-Mastery Workshop was held by the Municipality in partnership with ABSA at the Lion Match building on Umgeni Road. During the two-day initiative from 12 to 13 November, Small, Medium and Micro Enterprise businesspeople were equipped with skills to succeed in a competitive market. This was followed by a Business Clinic on 14 and 15 November where businesspeople were taught about the legal matters pertaining to the functioning of their businesses.

To close off the week's activities, on 16 November there was a GEW celebration in Clermont Township which began with a Business Engagement and was followed by a tour and memorial lecture. This was achieved through a partnership between the Municipality, Clermont Community Tourism Office, Durban Chamber of Commerce and Industry and Youth Employment Services.

Also on 16 November, a Women Empowerment Engagement took place at Umkhumbane Entrepreneurial Support Centre where women were given the opportunity to enquire knowledge on establishing businesses and cooperatives. They were also informed on opportunities around access to markets and access to finance and the importance of customer services and financial planning.

To ensure inclusivity of people with disabilities in the mainstream economy, on 16 November an Entrepreneurship programme was held at Durban Botanic Gardens where people with disabilities were informed of a sustainable vehicle to ensure radical economic transformation for the targeted group in the City. This initiative was achieved through a partnership between the Municipality, the KwaZulu-Natal Society for the Blind and Department of Public Service and Administration.

Media Enquiries: Msawakhe Mayisela on 0609664220 or Mthunzi Gumede on 0714127701

ENDS

Issued by eThekwini Municipality Acting Head of Communications Unit, Mandla Nsele.

---