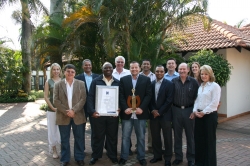 Front row (from left to right): Albert Render, Bongani Linda (President of iLembe Chamber), Trenley Tilbrook (CEO of the iLembe chamber), Terence Delomoney, Andy Horton, Louise Gibson Back row (From left t to right): Melanie Clarkson, Mel Clark, Keith
Award-winning Ilembe Chamber not resting on its laurels
2011-10-10

The six-month old iLembe Chamber of Commerce, Industry and Tourism (ICCIT) has clinched the Chamber of the Year award at a gala dinner held by the South Africa Chamber of Commerce and Industry in Sandton on Monday October 3.

ICCIT is a member-driven organisation dedicated to facilitating and promoting business on the KwaZulu-Natal north coast. It has already implemented countless new initiatives and projects to stimulate the local economy.

Jubilant ICCIT CEO Trenley Tilbrook said, "The recognition and credibility from this award will give us more leverage to further engage government. So it's onwards and upwards to ensure we resolve more issues facing business in our area."

One of the chamber's initiatives include the successful mentorship programme and on-going Entrepreneur competition where aspirant entrepreneurs are teamed up with successful business mentors to learn about business and win seed capital to start their own. Other projects are the establishment of numerous forums covering all business aspects, the launch of the Hot Ballito tourism marketing campaign, co-ordinating the area's Business Retention and Expansion plan and establishing an Urban Improvement Precinct.

But Tilbrook and his small team at the chamber don't plan on stopping there. Other plans include launching the Isithebe Business Forum further up the north coast and strengthening the chamber's existing forums. These forums will ultimately lobby government to improve growth-hampering service delivery and development blockages. "Unlocking these blockages will stimulate growth and help alleviate unemployment in our area," said Tilbrook.

Added to this, Tilbrook said they plan to grow the chamber's membership count from 225 to 300 businesses in the next six months.


---