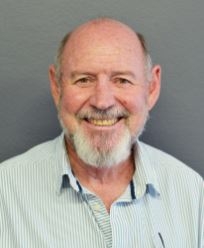 Andy Horton - New President of the iLembe Chamber of Commerce, Industry & Tourism
Andy Horton has been elected as the new President of the iLembe Chamber of Commerce, Industry & Tourism at a Board Meeting that took place on Wednesday, the 3
rd
of April 2019. Andy takes over the reins from Xolani Gumede, the outgoing President. Xolani will continue his involvement with organized business as a Board Members of the iLembe Chamber.
Lesa Bradshaw was elected as Vice President, whilst Dominic Collett retains the Treasurer position.
Andy is a founder Board Member of the iLembe Chamber of Commerce, Industry & Tourism. Andy, who qualified as a Lawyer after completing his legal studies at UKZN, is a Legal Consultant with LC Smith Incorporated.
He has been active in local government for the past 32 years, among others as Mayor, Deputy Mayor, Executive Committee Member and more recently as Legal Advisor to the iLembe District Municipality.
Andy is married to Karen and the couple has four adult sons.
Lesa Bradshaw is a Managing Member of Bradshaw Le Roux Consulting. She holds an MBA, Honours Degree in Psychology, a Diploma in HR Management and is a qualified Psychometrist in Independent Practice.
By combining her professional experience with her journey as a person with a disability, Lesa has contributed to establishing Bradshaw LeRoux Consulting as a leading specialist in creating inclusive disability cultures. She is a seasoned international speaker on the issue of disability inclusivity, the recipient of the 2018 BWA Regional Business Award and the Umyezani Disabled Entrepreneur of the Year in 2018.
Dominic Collett has been a member of the iLembe Chamber Board since its inception, and holds the position of Principal with Royal HaskoningDHV.
Members of the Board Committees are as follows:
Finance Committee:
Andy Horton, President
Dominic Collett, Treasurer
Cobus Oelofse, CEO
Ethics Committee:
Hlalelo Makwabe
Shain Manjoo
Remuneration Committee:
Lesa Bradshaw
Nhlangano Sokhela
iLembe Chamber Board Representative on the Board of the Isithebe Business Cluster:
Trevor Graham