Durban Port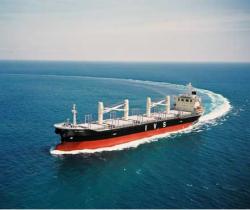 Durban
Port
is the largest on the Southern African Coast, and is a full service general cargo port. The
port
of
Durban
handles the greatest volume of sea-going traffic of any port in southern
Africa
.
Durban
is
South Africa
's premier container facility, as well as the busiest, deepwater bulk and breakbulk port, with the largest capability for handling containerised sea traffic. The port is modern and well equipped, offering a wide range of goods and passenger handling facilities. These are backed up by a versatile grouping of specialised and general warehouse and materials handling organisations and road, rail, air and pipeline transport systems.
Durban Port offers the following facilities:
Port Operational Facilities, Container terminal, Break-bulk cargo facilities, Bulk handling facilities, Bulk liquid storage, Dedicated refined-sugar terminal, Motor vehicle terminal, Dry-dock and ship repair facilities, Vessel re-victualling, Passenger vessel terminal, and Yacht basin.Transhipment-warehousing and bond-warehousing are also available.
The Port has undegone a R1.34 billion investment programme aimed at upgrading existing facilities, increasing capacity and accommodating the latest mega-container vessels with more projects in the pipeline.