A growing, developing and caring province firmly focussed on vision 2030!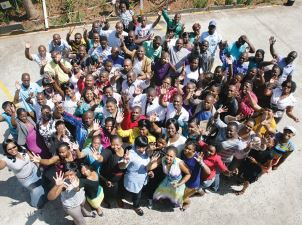 The Provincial Government of KwaZulu-Natal is determined that we will have "A prosperous Province, with healthy secure and skilled people, acting as a gateway to Africa and the World". A clear plan of action is expressed in the Provincial Growth and Development Plan setting comprehensive targets of what achievements are required to ensure that the Vision is realised. The Province is committed to the Key National Priorities namely:
Creation of more jobs, decent work and sustainable livelihoods for inclusive growth
Rural development, land reform and food security
Improved quality basic education
A long and healthy life for all South Africans
Fighting crime and corruption
The implementation of the Nine Point plan to grow the South African Economy
These National Priorities, and for that matter all 14 Outcomes of the NDP remain the foundation of the Provincial Growth and Development Plan. The following indicate some of the actions underway.
Priority Intervention 1: Revitalisation of the agriculture and agro-processing value chain (APAP)
A KZN Agrarian Transformation Strategy will, contribute to rural economic development, increased production, job creation and market access for farmers mainly in rural areas through their integration into global value chain.
Priority Intervention 2: More effective implementation of a higher impact Industrial Policy Action Plan
The Richards Bay Industrial Development Zone (RBIDZ) remains an engine for job creation and a catalyst for foreign direct investment. This facility has already attracted investments of over R6,8 billion including a R4,5 billion Titanium plant. Key milestones include: -
 R2 billion biomass plant,
 R300m pipe manufacturing plant,
 R16m paint manufacturing enterprise,
R20m logistic services
Priority Intervention 3: Advancing beneficiation (adding value to our mineral wealth)
A KZN Mineral Beneficiation Strategy has been developed, which is aimed at driving the minerals sector in KwaZulu-Natal towards a more profitable, socially accountable and environmentally sustainable future.
The Province is currently conducting an analysis of the contribution of coal and phosphate in terms of their socio-economic development, risks and opportunities.
The Department of Economic Development, Tourism and Environmental Affairs (EDTEA), has conducted a coal discards study that identified all existing coal mines and coal discards in the Province. These discards have been classified according to their economic value, environmental impact and logistical or ease of access to the discards.
Priority Intervention 4: Unlocking the potential of SMMEs, cooperatives, township and rural enterprises
The Co-operatives Programme has two very specific objectives, namely to provide food security and to create economic activity at a very basic community level. Plans are advanced to get co-operatives involved in the production of commodities that can be branded and marketed, for both domestic and international market. The KZN Small Business Development Agency together with Ithala, provide holistic financial and nonfinancial support services to the co-operative sector.
The Provincial Association of Traders to handle bulkbuying and warehousing for the co-operatives and SMMEs has been established. Buildings owned by Ithala across the Province are to be used as warehouses. This is to create direct access to suppliers and reduce costs of goods.
An SMME Academy is to be established to provide the necessary skills desperately needed by the formal and informal economy.
Priority Intervention 5: Growing the oceans economy
The maritime industry sector has potential to be an engine for sustainable economic growth and a game changer for the Province in a number of secondary areas.  Opportunities comprise port optimisation in sectors such as containerisation, oil and gas, ship and rig repair, boat building and aquaculture.
Priority Intervention 6: Resolving the energy challenge
The RBIDZ is being used to pioneer an energy production hub. Currently, about 20 hectares of land have been identified to host gas-to-power operations in an effort to yield diversified energy generation capacity from renewable sources. Its importance lies both in improving the quality of life for the previously disadvantaged majority as well as supporting large-scale industrial development. This lack of access to efficient modern energy has significant impact on socio-economic development.
Priority Intervention 7: Managing work place conflict
The Province encourages everyone to work together to minimise workplace labour conflict that impact negatively on productivity. Everyone must work together to resolve any emergent disputes and pull our country to prosperity.
Priority Intervention 8: Scaling up private sector participation
The following projects are in the pipeline:
Vossloh Project ' which is a French company looking at setting up a manufacturing facility in KwaDukuza
 HBM and SA Health Project ' This is a condom manufacturing project to supply the local market and export to the rest of the continent, and is a partnership between a local company and a USA headquartered company.
Multi-Smelter Park Project Iron Ore Project ' The Melmoth iron ore project is a joint venture between Jindal Mining SA (Pty) Ltd and Sungu-Sungu Mining, as the principal Prospecting Right License holder.
Manufacture of Ethanol from Sugar Project ' The project promoter, Silvapen (South African / Brazilian Company) intends to establish an ethanol manufacturing plant near Jozini on the Makhatini Flats.
St Lucia Wind Farms Project
Hebei Iron and Steel in Richards Bay IDZ to the total of R75 billion.
Priority Intervention 9: Cross-cutters related to ICT, Transport infrastructure, Science and Technology and Water
The King Shaka International Airport is growing as a strategic air transportation hub. The Province is planning to spend R12 billion on infrastructure in 2016/17.  Department of Transport will spend the lion's share of this budget at 55%, followed by the Department of Education at 20% of the infrastructure budget and Department of Health at 13%. Other departments spend will be the remaining 12%. The Education infrastructure budget includes funding allocated in the Adjustments Estimates of R150 million. This funding is ring-fenced to address the water and sanitation backlogs in schools.