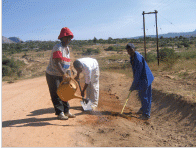 Women
One of the Department's main focuses is on empowering women. Women are in the majority of the section of the population who live below the poverty line in rural areas with increasing number of households headed by women likely to be poorer than those households that are headed by men. Consequently, the Department has put in place empowerment programmes that target women and address their needs, concerns and challenges.
The establishment of development projects by the Department around KwaZulu-Natal bears testimony to the great success of the drive to mobilize women. These projects target women living in the poorest communities and who have children below the age of 15. Flagship projects among other things create opportunities for women to participate in food gardens, poultry farming, sewing, bakery and Early Childhood Development Centres. The provision of support services like Early Childhood Development Centres within these programmes create an enabling environment for women to participate actively in the socio-economic transformation of the Province and the country as a whole. In addition, these centres provide urgently required facilities and resources for preschool children's development. Skills training offered through these projects are not only limited to practical projects but include bookkeeping and financial management. As a result of these interventions women have become more economically empowered and have become key role players in building the economy of the Province.
Non Profit Organisations
The Department subsidizes and registers Non-Profit Organisations which are managed and owned by women and helps them find markets for their products. Community Development Practitioners employed by the Department offer support in the form of life, financial management and parenting skills as well as capacity building to the members of the NPOs. In cases where the NPOs are able to generate a fair amount of income, they are assisted to register as co-operatives.
The Department of Social Welfare and Development applauds the tremendous dedication and determination shown by women in all walks of life.