Arts and crafts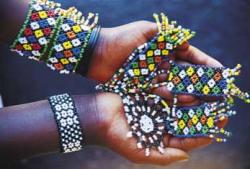 Hand-made crafts are an integral part of Zulu culture, and incorporate items such as woven baskets, beadwork, jewellery and clothing, artefacts used in ceremonies and rituals, as well as practical items like clay pots, sleeping mats and wooden head-rests, which date back centuries. Traditional African wooden carving is very popular. Most of the materials are gathered from nature - reeds, clay, plants, trees and animals. Increasing use is made of recycled materials like wire, plastic and tin.

Beaded jewellery in KwaZulu Natal is a flourishing enterprise that engages thousands of rural women. Largely worn on traditional occasions, the beadwork makes a statement about the wearer. In traditional beadwork, colour and design can signify family status, gender and region of origin, reinforcing a sense of ethnic identity. Many of the articles are offered for sale at roadside stalls, markets and shops.
Textiles and Clothing
The textiles, clothing and footwear industry is well established in South Africa. The industry consists of around 300 manufacturers, based mainly in KwaZulu-Natal, the Western Cape, the Eastern Cape and Gauteng.
As well as supplying the domestic market, the textile manufacturing sector has an export bias and nearly a third of South Africa's manufactured textile exports originate in KwaZulu-Natal.
The import of textiles and clothing to the South African market by
China has put increasing strain on the domestic manufacturing industry, leading to the demise of a number of companies.
The textile industry in South Africa can be segmented into the following major sectors:
Fibre production

Spinning

Weaving

Knitting

Non-wovens

Carpet production

Fabric Coating
Some companies, of which one is based in Ladysmith, process the fibre or raw cotton into yarn or cotton. This cotton, of which approximately 3300 tons are produced annually, is distributed to Pietermaritzburg and Durban to be used in the textile industry.
Clothing
The clothing sector is also well established, with three levels of manufacturers based in Durban, Pinetown, Inanda and Chatsworth. Many of these are operations handling cut, make and trim. Other participants are design houses and independent retailers who specialise in pre-production and distribution.
There are a few very large manufacturers, but the majority of clothing manufacturers fall into the medium sized category (50 to 200 employees) and there are approximately 400 SMME concerns, which fulfill the role of sub-contractors to the rest of the industry. This latter group also supplies the informal sector, which is growing rapidly.
Footwear Industry
The footwear manufacturing industry in South Africa operates countrywide with factories in the major cities and surrounding areas.