Mining and Quarrying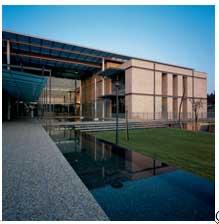 According to the provincial profile report (Statistics South Africa, 2004), mining and quarrying is the smallest employment sector in
KwaZulu-Natal
, accounting for 0.2% of total employment. The GDPR and value added estimates for the mining and quarrying sector was R3.695 billion which represented 1.6% of the total GDPR for the province (Source: Mintek, Specialists in mineral and metallurgical technology, May 2007).
KwaZulu-Natal's resources consist mainly of sand and aggregate and most mining operations are in those commodities.
Ilmenite, rutile and zircon are mined on a large scale for their titanium and zirconium contents from aeolian beach dunes in the northern areas of KwaZulu-Natal. Large ore reserves are held by Richards Bay Minerals, a leading producer of the heavy minerals, which mines the 17 km stretch of land along a 2 km strip of coastline north of Richards Bay (the City of uMhlathuze). Richards Bay Minerals meets about a quarter of the world's demands for these products, generating billions of Rands in foreign currency. The region is rich in other minerals such as aluminium, anthracite and calcitic marbles. KZN Sands previously Ticor, is focused on the exploration, mining and treatment of mineral sands deposits in KwaZulu-Natal.
KZN Sands employs about 700 people and uses hydraulic mining at the Hillendale mine 20 km south-west of Richards Bay to produce slurry for the mine's primary wet plant. Currently, ilmenite, zircon and rutile are produced from Hillendale. Further processing, including smelting ilmenite to produce titanium dioxide slag, takes place at the central processing complex in Empangeni, 20 km west of Richards Bay.
In the northern interior district of Newcastle-Vryheid and in the Nongoma area, the coal consists mainly of anthracite. Much of the anthracite is railed to the coal terminal at Richards Bay, from where it is exported. Richards Bay Coal Terminal is the world's largest coal exporting terminal. A recent survey of mineral resources in KwaZulu-Natal has revealed economically viable pockets of coal remain within the province's three traditional coalfields of Utrecht, Vryheid and Klip River, with the latter displaying the highest potential (Mintek).
Coal in the province is of viable quality, but a significant tonnage of high-grade coal currently remains un-mined. Extraction of such coal offers opportunities for small and medium enterprises.
KwaZulu-Natal is also home to the recently reopened Klipwal gold mines, which will produce gold on a small scale, relative to the far larger production capacity of the other minerals in the region.
The social and environmental impact of the mining industry in KwaZulu-Natal is as spectacular as its economic success. Richard Bay Mineral's social investment initiatives have benefited the surrounding areas, transforming them into a thriving community. The company employs some 2 100 permanent staff and 2 000 contractors in various positions, providing jobs and training for the local population, while also building skills and developing a sense of community and achievement within the region.
According to the Mintek 2007 report the building mineral deposits of KwaZulu-Natal are not large enough to sustain major export markets. The Province provides a big enough market to ensure the self-sufficiency of many operations, with some exports to other provinces such as Gauteng.
Sand and aggregate are the largest tonnage construction materials in KwaZulu-Natal, with Lafarge, Holcim and WH Lemmon-Warde, being the dominant producers.
Idwala Industrial Holdings mines limestone and shale near Port Shepstone at their Idwala Carbonates Mine. NPC Cimpor also owns an open-cast mine near Port Shepstone, which produces limestone, sand and shale.
Three companies are involved in the brick industry, the largest being Corobrik. The others are Eston Brick and Tile (Pty) Ltd, a subsidiary of Kaymac Holdings (Pty) Ltd, and Ideal Brick (Pty) Ltd. The brick manufacturers are usually located at or near the clay quarries.
Mintek's recent minerals survey showed most existing operations in the province and high-potential localities for the discovery of additional resources. Reports, providing details of the findings have been placed on the Trade & Investment KwaZulu-Natal website and can be downloaded from www.tikzn.co.za. The GIS is available on request.