Energy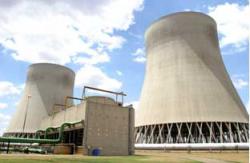 Parastatal company Eskom is one of the largest utilities in the world, generating nearly all of
South Africa
's electricity. However,
KwaZulu-Natal
could soon be home to one of South Africa's first private sector-owned electricity-generation plants. Most of the funding will be from direct foreign investment.
The largest hydroelectric power plant in South Africa is the 1000 megawatt Drakensberg Pumped-Storage Facility, part of a larger scheme of water management that brings water from the Tugela River into the Vaal watershed. The Drakensberg Pumped Storage Scheme is in the Northern Drakensberg mountains in KwaZulu-Natal, close to the town of Bergville. The station is unique as apart from the dam wall, lift shaft buildings and transmission lines, all installations are 150 meters underground. A pumped storage scheme generates electricity during peak hours, which is everyday when the demand of electricity rises. During the off-peak periods Drakensberg uses its reversible turbines to pump the water back to the upper reservoir, readying the system for peak periods.
Solar Energy
A long term vision of Eskom is to to generate thousands of megawatts of base load power from solar energy. The building of a R3 billion 100MW solar demonstration power plant is pending board approval.
Gas
Natural gas is not yet a major energy source for South Africa, but the South African government wants to expand its utilization. Industry also wants to move towards greater natural gas adoption, but coal remains a very inexpensive competitor.
Nuclear Power
The renewed global interest in nuclear power and the planned investments into new generation capacity in
South Africa present an opportunity for a re-assessment of the opportunities that can accrue from beneficiation of uranium in South Africa. One of these opportunities would be localised nuclear fuel manufacturing thereby ensuring rand denominated fuel cost for nuclear power plants with savings on foreign exchange and creation of a significant quantity of jobs through beneficiation.